New shirts and hoodies in the store!
Friday, March 27, 2009
PUMFDOG

Only a week now till the re-opening of Projekts Skateboard Emporium get down there on the 4th April for opening day freebies and promos; they're now on the 2nd floor of Affleck's Palace right beside where Note used to be and above where Wisdom was (oh the memories!) Ste prime turned up last week to see us of and show of his radical new tat in an 80's slash dog style. The original's a Pushead graphic for Thrasher (look 'im up) RAWDOGGER!!
Tuesday, March 24, 2009
YE AH!
More Bloody Barrett, I took this sequence last summer; 5-0 to switch crook, top off for the ladies!)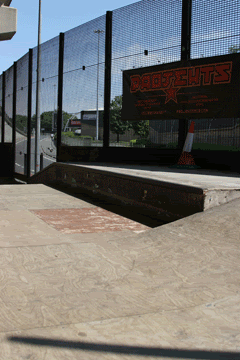 Monday, March 23, 2009
CBMundays
More Sunday shenanigans from the one and only Bazra. You need bottle and precision to Ollie into the new bank at the pump and Chris has both, plus a little style, check the hands! ( He also made a flip in to it, but my batteries gave up the ghost so you'll just have to imagine that one.)


Saturday, March 14, 2009
PUREGRETTINS
Nick Stansfield takes time of from running his boutique and puts in a little skateboarding! check the footy at THE PUMPCAGE.
Projekts Gallery R.I.P
Well it finally came my last day at lurking at Projekts and getting paid for it. Gutted. But It's not all bad news Projekts skate shop is moving from the Edge street shop into Affleck's Palace just down the road and closer to the town centre. It will still be supplying the best skater owned brands to Manchester's hard core. New shop opens on the 4th April.

Unfortunately there's just not enough room for the gallery in the new space so it had to go. Cheers to everyone of the artists we exhibited and soz to some of the other guys we were looking to show this year. As I said its not the end and I got some other irons in the fire so stay tuned. Here's a slide show of all the good times we had so you can cry into your brew while whistling the tune from my littlest Hobo.


Thursday, March 12, 2009
RogueTroopers
Check the Rogue promo for Lucy and Maria killing it at the pump cage and beyond....

More Skateboarding >>

Rockdaduds!
Check out the new Affleck's Palace site for a huge pic of Mark Kendrick giving it some on the ol' guitar!